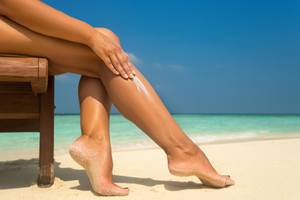 Vacations are a time to relax and unwind, so much so that all we want to do is lighten our beauty routine. However, summer is not the best time to let your guard down... Beach, pool, patio, and terrace put your skin to the test. Uriage offers you a few simple steps to take to refresh your summer beauty routine without neglecting your skin.
Hydration: I prepare
Made up of 80% water, the skin is damaged and dries out under the effect of the sun and its rays... which are not as kind as they seem. In summer, it needs to be intensely moisturized to be armed throughout the day. To prepare the skin to flirt with UVA, UVB, sea salt, pool chlorine, wind, sweat and heat, we apply a moisturizer every morning. Deeply moisturized, the epidermis maintains its natural balance and keeps its tan for a long time. Don't forget to repeat the operation in the evening after getting out of the shower (or before going to bed) for deep moisturizing.
Sun care: I protect
Vitamin D, a beautiful, tanned complexion, sunburn, skin aging, risk of cancer... the sun is capable of the best and worst! To benefit from its virtues without risk of skin damage, there is only one watchword: PRO-TEC-TION.
Sun care products that correspond to your phototype should of course be added to your summer beauty routine. To better resist the sun's wrath, apply the care 20 to 30 minutes before exposure and don't forget to reapply every 2 hours and/or after each bath. For a 100% sun-secured objective, don't forget to pamper the areas that are usually forgotten, such as lips, scars, nose, or spots.
Daily care: I clean
Cleansing the skin removes the residue of salt, chlorine and sunscreen accumulated during the day. Even in summer, don't skip the first beauty step! To avoid: aggressive soaps and shower gels that attack the skin's hydrolipidic film. For a gentle cleansing, choose a cleansing gel enriched with moisturizing agents that respect the skin's natural balance. The Uriage Cleansing Cream is suitable for all the skins of the family and to make matters worse, its nomadic format is practical for travelling!
After-sun care: I repair
Overheated, attacked, and dried out by UV rays, salt and chlorine, the skin needs a good dose of kindness. True concentrates of hydration and freshness: soothing cream, repairing balm, and refreshing after-sun mist soothe overheating and comfort weakened skin. Relieved, the skin is replenished, and the beautiful, tanned look lasts beyond the summer. With a soft, light, fresh, creamy, or melting texture, after-sun care products can be consumed until you run out of water...