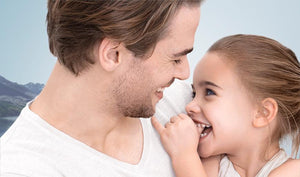 The Uriage Thermal Spa treats more than 4,800 people per year, some of whom suffer from chronic and inflammatory skin diseases. These skin pathologies can be influenced by various factors such as diet, physical activity, stress, etc.
This is why we created the Re-Source Workshops with the Uriage Spa team. These workshops have been developed by health professionals, multidisciplinary speakers and patients, all trained in therapeutic education. Their objective is to help you discover new ways to take care of yourself, to recharge your batteries and to become an actor in your well-being.
Through this collection, #ACTOR OF MY WELL-BEING, we want to make the expertise of our Re-Source professionals available to as many people as possible, for a comprehensive treatment of these skin conditions. 
Charles Beaujean, General Manager of Complexe Touristique et Thermal d'Uriage
Vanessa Bellil, Director of Uriage Medical Communication 
MY 7 GOALS
1] UNDERSTANDING MY ATOPY
"Atopic dermatitis is a complex inflammatory disease. It is important to know the causes and aggravating factors and aggravating factors in order to adopt the right measures"

Dr. Toni Ionesco, dermatologist
2] EAT BETTER
"In order to avoid the aggravation of the attacks of dermatitis, find all my advice on how to adopt tips for adopting a healthy and balanced diet a healthy and balanced diet on a daily basis."

Julie Berger, nutritionist
3] MOVE BETTER
"Sport is a precious ally to feel better in your head and in your skin when you suffer from atopic dermatitis. Hydration, choice of clothing, protection... To find all the gestures which allow the practice of sport in all serenity."
Marine Noret, athlete and member of the AFE*
4] RECLAIM YOUR SKIN
"How to properly cleanse, moisturize, and apply makeup to your skin? I give you tips on how to pamper yourself and (re)learn to love your skin and (re)learn to love your skin."
Amélie Arsac, socio-esthetician trainer
5] REDUCE MY STRESS
"The practice of yoga allows me to regain confidence in one's body, to release tensions, to eliminate certain blockages both physical and emotional blockages, and to regain to pleasant and positive sensations."
Lucile Gueguen, Certified Yoga Teacher
6] BETTER SLEEP
"By calming the body and the spirit, sophrology makes it possible to reduce the time to fall asleep and to reinforce the quality of sleep, an ally of atopic skin."
Céline Pennetier, sophrologist analyst
7] LIVING BETTER WITH MY ATOPY
"Eczema attacks can be triggered by triggered by multiple factors. The French Eczema Association shares tips and tricks to limit exposure to these exposure to these factors and live more serenely and live more serenely with atopic dermatitis on a daily basis."
Marjolaine Hering, Doctor of Pharmacy,
dance therapist and member of the AFE*