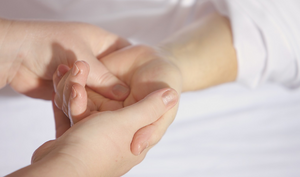 Do you wash your hands several times a day and find them damaged or even extremely dry?
Find out how our Uriage experts can help you take care of your hands. Are you ready?
Before you get started, here are some important tips:
For best results, it is best to massage your hands before going to sleep.
To make sure you don't forget this moment of relaxation, place your tube of hand cream next to your pillow. If your hands are weakened, damaged or dry, opt for BARIEDERM INSULATING REPAIRING HAND CREAM.
The protocol below was developed in collaboration with nurses and socio-aestheticians.
Step1:
Apply Bariderm Hand Cream all over your hands
Step 2:
Smooth it on your fingers, one by one, 3 times
Step 3:
Massage 3 times each phalange with circles
Step 4:
Form a hook with your index and the middle finger, grab each finger 3 times, and slide to the nail
Step 5:
Massage gently the borders of each nail
Step 6:
Gently massage 3 times the stronger area between the thumb and the forefinger. Repeat on the other hand.
Step 7:
With your thumb, massage the palm of the hand with small circles
Step 8:
Finish by smoothing the cream all over your hands