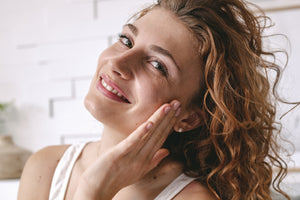 Many people have oily skin due to the overproduction of sebum. Taking care of oily skin involves a regular skincare routine and adopting certain habits to help manage excess oil production.
HERE ARE SOME TIPS TO HELP YOU CARE FOR OILY SKIN:
Hydrate your body properly. At least 8 glasses of water per day are necessary for your skin to look healthy.


Feed yourself correctly, your diet directly influences the health of your skin. Fresh foods, such as fruits and vegetables, nourish and beautify the skin because they are rich in various nutrients. On the other hand, those made with sugars, flour, refined oils, or saturated fats have the opposite effect on it. For this reason, we recommend following a diet rich in fruits, vegetables, and foods with a high fiber content. If you maintain a healthy and balanced diet, you will see the same effect on your skin!


Cleanse the skin twice a day, once in the morning and once before bed, to remove impurities and excess oil. We recommend our URIAGE HYSEAC CLEANSING GEL from the Hyséac line, specially formulated for combination to oily skin, particularly acne-prone.


Avoid over-washing: While it's important to cleanse your skin regularly, over-washing can strip away natural oils and cause your skin to produce even more oil to compensate. Stick to twice-daily cleansing unless you've been sweating excessively.


Do not abuse makeup. Using makeup daily and in large quantities can harm the health of your skin. Use URIAGE THERMAL MICELLAR WATER COMBINATION & OILY SKIN to cleanse and remove make-up while protecting the skin against dryness.


Moisturize: Contrary to what you might think, even oily skin needs moisturization. Look for lightweight, oil-free, non-comedogenic moisturizers tha

t won't

clog your pores.
URIAGE HYSEAC 3-REGUL GLOBAL SKINCARE - This "all-in-one" global skincare product promotes the elimination of skin flaws (spots, blackheads, shine) and leaves the skin clear and matte.
URIAGE HYSEAC MAT' MATIFYING EMULSION - A mattifying care with a delicately perfumed half-gel, half-cream texture that mattifies, moisturizes and tightens pores.


Get enough sleep. Sleeping at least 7 hours a day provides the body with the rest it needs while contributing to the health of the skin.
Remember, consistency is key. Establishing a regular skincare routine tailored to oily skin and sticking to it will help maintain a balanced and healthy complexion.
A daily routine bringing back a clear, mattified and flawless skin. The performance of active ingredients to control excess of sebum, tighten the pores, moisturize, soothe, and purify.