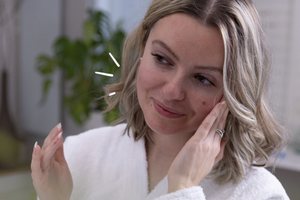 Do you feel like your skin is more like the Gobi Desert than a Garden of Eden? Does it feel tight, lacking in suppleness and comfort? Look no further, chances are it's dehydrated.
To remedy the situation, the solution can be found in one word: water! Uriage gives you 9 precious tips for a well-moisturized skin
1. Moisturize your skin from the inside out
Let's start at the beginning. To avoid dehydration, you need to moisturize. When you put it that way, it sounds so obvious, but water is a building block of our skin. One of the best ways to provide our skin with the water it needs is to drink a lot (at least 1.5 liters per day) and regularly throughout the day.
2. Exfoliate and cleanse, the basis of good hydration
While moisturizing from the inside is essential, moisturizing from the outside is also very useful. But before moisturizing your skin, remember to thoroughly cleanse and exfoliate it. In concrete terms, clean your skin morning and night with a gentle cleanser, such as a micellar water adapted to your skin type, which respects its protective film. When it comes to exfoliating, there's no need to overdo it! The idea is to gently remove dead skin cells to stimulate cell renewal. Once a week, apply a gentle scrub with microbeads or an enzymatic exfoliant. Don't forget to finish this weekly routine by applying a moisturizing mask to help your skin rebuild its hydrolipidic film.
3. Adopt a moisturizing routine morning and night
Moisturizing means moisturizing in the morning and evening. In the morning, apply your moisturizer after thoroughly cleansing your face. If your skin is particularly dehydrated, don't hesitate to apply a serum, a real hydration booster, under your day cream. Not only will your skin be moisturized and plumped up, but it will also be ready to receive your makeup! In the evening, moisturizing care is essential to help the skin regenerate during the night. Moisturizing cream or even a moisturizing mask like the THERMAL WATER SLEEPING MASK in case of advanced dehydration, listen to your skin!
4. Pamper sensitive areas
In our moisturizing routine, we don't forget to insist on the fragile areas of our face, particularly sensitive to the lack of water. Eye contour and lip balm are your indispensable allies for fresh eyes and a radiant smile.
5. Water for my skin, thermal water please
Adding water to moisturizers is good. Thermal Spring Water is even better. Protective, soothing, and moisturizing, Uriage Thermal Spring Water has multiple benefits, starting with the ability to prolong skin hydration. Enriched with Thermal Spring Water, all Uriage moisturizing products are specifically formulated to moisturize your skin deeply and durably.
6. Moisturize without forgetting to nourish
Our skin needs to be hydrated (water), but also nourished (lipids). The famous hydrolipidic film can thus do its job: maintain water in our skin while protecting it from external aggressions. It is for this reason that a skin known as "oily" can be completely dehydrated. To combine these two needs, the easiest way is to apply a moisturizing care product in the morning and an enriched, more nourishing one in the evening, such as the THERMAL WATER RICH WATER CREAM.
7. Adapt moisturizing to your skin type
To moisturize your skin properly, it is essential to respect your skin type and its degree of dehydration. Normal to combination skin types will prefer a light cream, while dry to very dry skin types will prefer a rich cream. If you have fair skin or spend time outdoors, add a UV protection!
8. Aim for a healthy lifestyle
Moisturizing your skin doesn't mean you don't have to protect it from external and even internal aggressions. Tobacco, pollution, alcohol, temperature changes, limescale, stress, etc., there are many factors that can dehydrate the skin. Being aware of them and vigilantly avoiding them will help you keep your skin well hydrated.
9. Moisturize your skin differently (mist)
Are you bored with the application of a cream or mask? You should know that there are more fun ways of applying skin care products to help moisturize your skin, with innovative sensorial textures. This is the case with the THERMAL WATER SPRAY, a dry, moisturizing mist that can be applied quickly and easily, or the Thermal Water Jelly, with its melting texture for an immediate fresh effect!


Find all the ingredients of a moisturizing routine inspired by the virtues of Uriage Thermal Water right HERE!