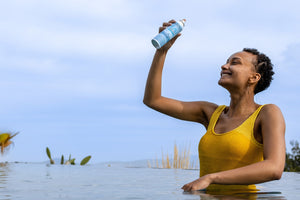 Now iconic, many of you can no longer do without your Uriage Thermal Spring Water. Natural and unique, it must be said that it has many benefits! From the most obvious to the most unusual and exclusive, Uriage has compiled a list of clever uses for Uriage Thermal Spring Water... and as many reasons not to do without it!
1/ Uriage Thermal Spring Water to protect the skin
Born of a long journey through the sands and crystalline rocks, Uriage Thermal Spring Water preserves a rare and precious isotonicity that allows it to act in perfect osmosis with the skin's cells. Loaded with essential minerals and trace elements, it concentrates all the protective power of the Alps in a Spray. A spray that pampers your skin in a spritz.
2/ Uriage Thermal Spring Water to strengthen the skin barrier
Packaged directly from the source, Uriage Thermal Water is a pure active water with a neutral pH and a mineral concentration of 11 grams per liter, much higher than other thermal waters. This exceptional minerality gives it unequalled virtues. Uriage Thermal Water restores the physical barrier and reduces the virulence of bacterial adhesion.
3/ Uriage Thermal Water to soothe irritation
Irritated by the cold, heated by the sun, attacked by the wind, stung by hair removal or prone to allergies, or other skin problems, the skin deserves care and comfort. To survive irritation, dryness, heat, and small redness, grab your spray bottle and apply a spritz or a compress.
4/ Uriage Thermal Spring Water to moisturize the skin
Using Uriage Thermal Spring Water to moisturize your skin: it's a no-brainer (thermal!). Minerals and trace elements soothe and help moisturize the skin in depth and justify the beauty routine with Uriage Thermal Water.
5/ Uriage Thermal Spring Water to fix makeup
Against all preconceived ideas, thermal spring water, sprayed in the right amount and at the right distance, does not remove makeup... but fixes it - the word of a professional makeup artist! For a successful express make-up, spray a fine mist of thermal spring water 30 cm from the face and let it dry... 100% long-lasting make-up hold guaranteed!
6/ Uriage Thermal Spring Water to refresh your skin
Is it hot? Is the sun beating down? The effort is hard? The emotion is intense? It's the perfect time to take your Uriage Thermal Water out of your bag. One spritz later and oh, the miracle of Uriage water's virtues: it gives your skin a fresh boost. You come back (finally!) and enjoy an irresistible feeling of freshness. And the advantage is that it can be consumed without moderation...
7/ Uriage Thermal Water as a skincare base
To boost the effectiveness of your cream, there's nothing like a spritz on the face as a skincare base. Leave it on until it evaporates, and your skin is ready to receive your day and night care products!
Your skin is asking for more? So many reasons to always have your multifunctional spray at hand!