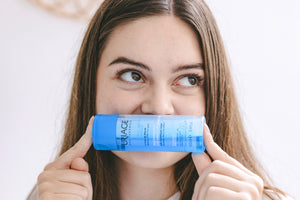 Make-up removal is a daily gesture for many women, and yet, certain rules often remain unknown.
Here are 6 essential rules for effective make-up removal:
Wash your hands before removing make-up from your face: the mistake most easily made when removing make-up is to use make-up remover without washing your hands. The hands, because they are most often in contact with the outside, have a high rate of bacterial contamination; this is why, before removing make-up, it is essential to wash your hands properly.


Never be too economical with make-up removing products: if you use too little make-up remover, the make-up will not be removed completely and friction on the skin can cause irritations to appear. It is better to use make-up removers in abundant quantities for more comfort.


Do not scrub too much to the point of removing all the oil from the skin: many women rinse their face by scrubbing it because they only feel clean when they feel completely rid of all fat on their skin. However, it is not recommended to wash your face this way. Your skin must always keep its natural hydrolipidic film; if you wash your face this way, the hydration of your skin will be disturbed. It is recommended to use Uriage Thermal Water after make-up removal, which restructures the skin barrier, preserves, and maintains the natural hydration of the skin.


Do not wash your face more than twice a day, even in case of acne: the twenties is the period when cellular aging is already beginning. It is therefore not recommended to wash your face too often during the day, even for skin with imperfections. Just wash your face twice a day; and if you are concerned about a greasy feeling on your face, simply wash it off with lukewarm water and then rinse with cold water.


The water temperature is also important for good make-up removal: it is important to know at what temperature you should wash your face for make-up removal that removes dirt and gives elasticity to the skin. For daily cleansing, first wash your face with lukewarm water, then rinse with cold water, patting lightly to tighten pores and tighten skin. A steam or hot towel cleansing session once a week can help evacuate impurities and eliminate dead cells, but repeated too often, the pores dilate and the skin sags; so be sure to space out the sessions.


And after cleansing? In all cases, rigorous rinsing is necessary to perfectly eliminate the surfactants which could irritate the skin. Then, make sure to wipe yourself thoroughly with a very dry towel. Finally, to fight against the dryness of the skin and seek a feeling of comfort, you can apply, on the face and the body, Uriage Thermal Water followed by your daily cream.
Finally, all you have to do is put these rules into practice to be a makeup removal pro!